TCMC Posted Great Performance in Q1 2021 with 1.8 Billion Baht in Revenue, Recently Closing Deal to Acquire British Furniture Retailer to Tap New Markets for Consecutive Growth.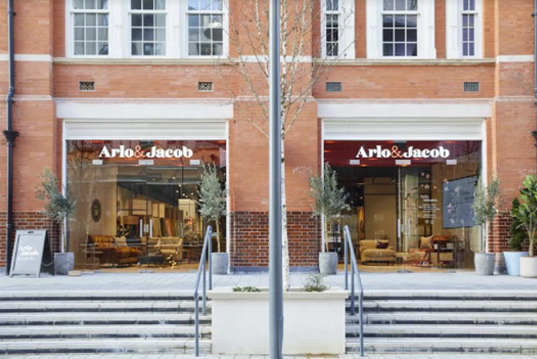 TCM Corporation Plc. (TCMC) unveils the first quarter's performance, showing signs of recovery with more than 1.8 Billion Baht in revenue which was driven by increasing sales from automotive and living segments. It also announces a successful deal with an acquisition of 'Arlo & Jacob,' a furniture retailer in the UK, to boost B2C potential. It plans to develop products and expand to new markets for a consecutive growth after the COVID-19.
Ms. Piyaporn Phanachet, CEO of TCM Corporation Plc. (TCMC), discloses that the company recorded 1,838.69 Million Baht in revenue in the first quarter of 2021 from sales and services which rose by 12.78% from 1,630.39 Million Baht in the same period last year, with a net loss of 15.29 Million Baht which improved from a net loss of 26.47 Million baht in the period. This was derived from efficient cost and expense management to minimize an impact from the COVID-19.
"In the first quarter of 2021, the pandemic remained affecting our business, particularly TCM Flooring as our main clients are in the hospitality business including hotels, casinos, theaters, entertainment venues and convention centers which have a strong impact from the COVID-19 consecutively and will unlikely recover in a short period. However, TCM Automotive is in an upward trend, in line with a significant recovery of automobile industry since the fourth quarter of last year. With growing of TCM Living's orders, added by our business strategy adjustment to increase efficiency and synergy among our business groups, we are strongly confident that we will be ready to come back with a robust growth when situation resumes to normal," says Ms. Piyaporn.
Achieving Acquisition. TCM Living Continues Solid Growth.
In addition to increasing operation efficiency, the company continued expanding manufacturing capacity and distribution channels since late last year. The company acquired a furniture manufacturer which was closed down as a result of the COVID-19. The acquisition can help increase a production capacity during the order volume of TCM Living hit record high. And this year the company took over Arlo & Jacob, a British furniture brand which has 5 showrooms in prime locations throughout the UK. This acquisition will add new B2C channels which can make the company know customer's needs better and use data of customer insight to improve products to meet customer's requirements. Besides retail shops, Arlo & Jacob has online channels which can help enhance the company's strategy of business to have a solid growth in all dimensions.
In the first quarter of 2021, TCM Living group recorded a growth of 37.23% in revenue when compared to the same period last year as overwhelming demand continued from last year. Though the UK had another wave of the COVID-19 pandemic by the end of 2020 which brought to the British government's announcement ordering all non-essential retail shops to close until the end of the first quarter and recently restarting on April 12, 2021, the company's business got a good feedback from clients who are retail shop owners after that. Even during the lockdown, sales continued coming in from online channels. As a result, the group posted 1,311.62 Million Baht in revenue at the end of the first quarter this year, up by 37.23% from the same period of last year. However, the group continued having a shortage of PU foam which is the main raw material, as a result, cost was higher. Meanwhile, freight shipping which is still a problem causes uncontrollable cost management. However, with an effort to increasing efficiency of cost and expense management and the fund support by the UK government, the selling and administrative expenses reduced by 35.01% compared to the same period of 2020. After taking out the inter-company expenses, financial costs, taxes, and exchange rates related, the group reported a net profit of 7.27 Million Baht.
At present, TCM Living group has furniture brands comprising Alstons, Ashley Manor, AMX Design, Alexander & James, and Arlo & Jacob. The company is confident that all of the 5 brands can respond to furniture demand in the UK increasingly due largely to the trend of staying at home and living outside the city. In the future, the company plans to expand to potential markets like Europe and the US where purchasing power is high.
Accelerating Cost Management for TCM Flooring and TCM Automotive
The company will improve machines and focus on lean organization to increase production efficiency with a quicker response to customers, ready to take new orders after the COVID-19.
TCM Flooring got a direct impact from a closedown of the hospitality and tourism business. Its revenue was 304.64 Million Baht, down by 34.65% from the same period of 2020, as a result of the COVID-19 impact to tourism industry and global travel. Despite an upward trend in the global economy as a benefit from the vaccination throughout the US and most parts of Europe, many businesses had continued to reserve their cash for working capital fund and liquidity. As a result, the renovation spending were abided. But TCM Flooring was able to control costs and expenses more efficiently and selling and administrative expenses decreased as a result of the reorganization. In the first quarter of 2021, the group reported a net loss of 49.28 Million Baht, 24.31% improving from those recorded in the same period of the previous year.
To boost revenue, the company accelerates product development and expands to residential sector where purchasing power remains strong. At present, the overseas market situation improved with a positive trend of tourism business. As contacts from international clients are on the rise, the company will focus on revenue growth from clients in recovering economies like the US and Europe, particularly luxury Hand-tufted carpets like carpets in brand-name shops and carpets on private jets.
TCM Automotive reported 222.43 Million Baht in revenue, a rise of 6.69% from 208.49 Million Baht in the same period of the previous year, as a result of the continuing recovery in automobile industry since the end of last year. Total selling and administrative expenses declined due to overall efficiency improvement and budget control. Therefore, the group reported a net profit of 26.72 Million Baht, a growth of 75.21% from the same period of the previous year. Automobile industry has an improving trend with a development of upholstering materials for seats and interior decorations in electric vehicles. However, the recent uprise of the COVID-19 situation in Thailand needs to be monitored closely as it may have an impact on domestic automobile industry to have a slowdown again.
In the first quarter of 2021, revenue contribution from each business group changed. Revenue contribution from TCM Living grew significantly by 12.71% to 71.33% from 58.62% in the previous year. Revenue contribution from TCM Flooring was 16.57%, down by 12.02% from 28.59% in the previous year as the first quarter is a low season and had an impact from the pandemic. Meanwhile, revenue contribution from TCM Automotive was 12.10%, slightly declining from 12.79% in the same period of the previous year. The growth of the automobile industry needs to monitor closely with key factors including the pandemic situation in the country and the government's policy to support the industry and stimulate the economy.
Throughout 2021, the company views that domestic economy may not recover but overseas markets have an improving trend. The company reorganized to be lean and more resilient to cope with any possible change. The company applied new technology while seeking new opportunities like business acquisition to enhance the existing business as well as expanding to new target groups with an aim to minimizing risks or impact from any risks as much as possible. The COVID-19 is a lesson that makes the company review and improve ourselves from policy to practice in order that we can grow steadily strong in a long run, TCM Corporation's CEO concludes.