Hishine launches a big campaign "Buy Back Deal", explore a new investment experience by providing 10% Return per year plus 100%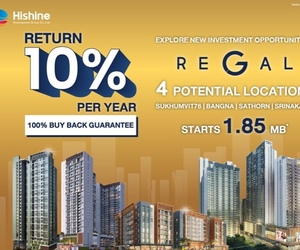 Hishine launches a big campaign "Buy Back Deal", explore a new investment experience by providing 10% Return per year plus 100% Buy back guarantee for all Regal Condo in Bangkok
Hishine Development Group, the first real estate developer who leads a new experience to real estate investment in the prime & potential locations in Bangkok, has launched its new campaign "Buy Back Deal" to provide 10% Return per year after contract made, plus 100% Buy back guarantee for the customers who buy any of its four condominium projects
Mr. Chen Xue Feng, Regional President of Hishine Development Group revealed that Hishine has been a specialist in worldwide real estate development for over 20 years and penetrate into Thailand condominium market two years ago. Hishine already launched 4 condominium projects and has a good response although the economic situation and social conditions are in crisis at present, especially the problem of Covid-19 disease that affects all businesses sector and people in Thailand. However, Hishine still believes that the real estate market in Bangkok will be able to continue growing.
Hishine will be the first real estate developer in Bangkok who launch "Buy Back Deal" campaign to provide the highest return to customers 10% per year after contract sign plus 100% Buy back guarantee to create new investment experience in the real estate market as its policy and strategy to strengthen the brand and build trust in the quality of construction. These will help reducing customer worries while making their decision to purchase Hishine's condos. Hishine projects consist of 4 condominiums located in the potential economic area, such as Regal Sathorn-Naradhiwas, Regal Bangna, Regal Onnut-Srinakarin, and Regal Sukhumvit 76.
In the mid of the COVID-19 pandemic right now, Hishine realizes and stands by Thai people to confront this situation together. In addition, Hishine will be the first property development company in Thailand that brings in a new experience by returning the most worthwhile benefits to customers. Since many are currently affected by the COVID-19 crisis, Hishine has therefore offered a "Buy Back Deal" campaign that provides the highest return of 10% per year after signing contracts. Hishine also guarantees 100% buy back to help relieve customer worries and reduce the burden of customers who are affected by liquidity problems. This is also another way for real estate investors when the bank deposit interest rate is not that high.
Furthermore, in case the customer is not satisfied with the quality of the construction, Hishine guarantees 100% buy back because we always care and value our customers. This campaign will give customers more confidence in buying the property with Regal condominiums from 4 locations, including Regal Sathorn-Naradhiwas, Regal Bangna, Regal Onnut-Srinakarin and Regal Sukhumvit 76 by Hishine Development Group.
The "Buy Back Deal" campaign has limited units offering! Decide now to be the owner of a good units with the best deal from Hishine right now.
Mr. Chen Xue Feng added: "Hishine is a large international property development company. Now we have launched 4 projects in Bangkok, which can start selling within only one year, and continuing success. We select only quality materials and products for our condominium construction and decoration, plus a good design and great location. Hishine operates systematic ordering and delivery from the same affiliate partners around the world so the structure, materials, and equipment used can be controlled, all with the same quality standards throughout the world. Therefore, every Hishine project has an advantage in cost control so our customers can buy luxury condominiums at economical prices. The new policy will be our new strategy to strengthen the brand, including building trust in construction quality and reducing customers' worries when they buy Hishine condominiums.
measures to optimise water use and conserve water resources in accordance with sustainability guidelines.Most of the water that is used by BGRIM's co-generation facilities comes from recycled process or being treated wastewater from industrial plants.The company has also added procedures to recycle water from the production process to help save water resources as well.The company is confident that it will be able to continuously produce reliable power and steam to meet the needs of customers throughout the year, she concluded.